Wi-Fi for visitors
‌‌‌‌If you are visiting the University you can connect to Wi-Fi on campus.
Visitor from another academic institution

‌
‌
If you are visiting from an institution that participates in the eduroam scheme, you can login to the secure eduroam Wi-Fi service using your usual username and password.
If you require further information or support you should contact your own IT helpdesk.
Public Wi-Fi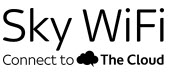 If you are are here for a short visit such as an Open Day, to attend a meeting or visiting family and friends, you can use the WiFi Guest service powered by Sky WiFi (The Cloud). It's just like when you use this service in other public places or hotels - simply register your details to get connected.
To connect to WiFi Guest (Sky WiFi):
Select WiFi Guest from the list of available WiFi networks
Open your web browser - the Sky WiFi landing page will appear. Click Get Online
Log in, or register if you're a first time user, to gain internet access.
If you need any help to get connected to the Wifi Guest option, visit The Cloud FAQs and Support website.
You can view the places where Sky WiFi is available on this Sky wifi map.
Visiting for a number of days
GuestNet provides access to the Internet for visitors who need authorised access for up to 7 days. You can get a GuestNet username and password from the department you are visiting.
If you are taking part at a conference at the University, GuestNet details will be included in your information pack or provided by the conference organiser on your arrival.
If you are a member of staff setting up a GuestNet account for visitors please note that accounts cannot be set up in advance - all GuestNet accounts must be created on the day of the users arrival.